Hi friends, welcome to our new blog, a unique recipe from Kerala called Kappa Biryani recipe. This Biryani is a fusion recipe between Kappa (tapioca) and mutton. If you are bored with having the regular standard Biryani, you should check out this unique recipe of Biryani. Commonly, you would have eaten Biryani with rice, but this recipe does not have rice, which is the unique aspect of this Biryani. In the place of rice, we use Kappa in this Biryani. That's why the name of the Biryani is Kappa biryani.
Kappa Biryani is an amalgamation of Kappa (tapioca), mutton, and different types of Indian spices. This Biryani is less spicy, and not too much oil is used, making this recipe a healthy one. If you are fond of Kerala recipes, you must try this recipe to get the taste of Kerala.
Kappa Biryani Recipe is made after boiling Kappa to half Cook and mixing it with mutton, which was cooked with different spices. Both are mixed and, lastly, cooked together in a Dum for some time; for a detailed understanding, please check out our exact step-by-step recipe below. We have included images and videos from our YouTube channel. We hope you like this recipe. Please share if you select this recipe and subscribe to a recipe blog and YouTube channel. Thank you for reading our blog. We can meet in our next blog.

You will surely enjoy this unique Biryani, which will make you happy; give it a try for tasting this recipe.
How to make Kappa Biriyani Recipe at home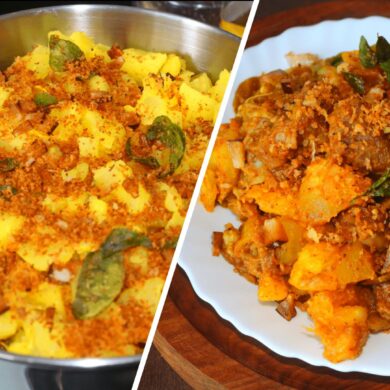 Kappa Biriyani Recipe
The beloved dish of Kappa Biriyani Recipe originates from the southern state of Kerala in India and is a popular comfort food among both locals and visitors.
Print
Pin
Equipment
1 bottom vessel

1 Pressure Cooker

1 Kadhai
Ingredients
1

kg

Tapioca/Casava/Kappa

1

tbsp

Grated Ginger

1

tbsp

Grated Garlic

3

nos

Green Chillies

Curry Leaves

2

Nos

Finely Sliced Onions

3

tbsp

Coriander Powder

2

tbsp

Red Chilly Powder

1/2

tsp

Turmeric Powder

2

tbsp

Meat Masala Powder

750

grams

Mutton

5-6

tbsp

Coconut Oil or Normal Oil

2

tbsp

Chopped Coconut

1/4

Cup

Grated Coconut

Salt as per taste
Instructions
How to clean Kappa/Tapioca:

Cut and slit from sides to remove the skin. (Skin peels off easily )

Tip – Soak in salt and turmeric water to remove the soil and dirt

Chop them roughly in small-med size pieces

Wash them thoroughly in water 2-3 times or until the water is clear

Take bottom vessel and add 2-3 litres of water and add some Salt and turmeric and let it boil

Then add the cleaned and chopped tapioca to the boiling water and cook on high flame for 5 mins

Cover and cook on medium flame for 10-15 mins or until the tapioca are soft.

Heat 2-3 tablespoons of coconut oil in a pressure cooker. Next, add one tablespoon of grated ginger and one tablespoon of grated garlic. Then, goes in three slits of green chillies and curry leaves.

Next, please add two finely sliced onions.

Now add Salt as per taste

Once the onions are golden brown, add 3 tbsp Coriander Powder, Mix everything thoroughly.2 tbsp Red Chilly Powder, 1/2 tsp Turmeric Powder & 2 tbsp Meat Masala Powder

Add Salt if required after checking seasoning

Then goes in 750 grams of Mutton/Lamb and mix it well.

Add one cup of tapioca stock to give added taste and flavour

Now generously add some Curry Leaves.

Cover the lid and First, whistle three times on high flame. Then simmer and cook for next 15 minutes.

Please ensure that the tapioca has been cooked thoroughly and soft in texture

Once the Tapioca is cooked transfer it into a Strainer.

For Garnishing – Take a pan heat some coconut oil and add chopped coconut and roast until golden brown

Then dry roast grated coconut with curry leaves until golden brown.

Once the grated coconut is aromatic and golden brown in colour, Take off the heat and keep it aside

Once the gas is completely gone, Open the Cooker, check the meat is cooked properly and Dry out access water from the masala.

To make dum, place a thick tawa over high flame and heat for 5 minutes. Then, reduce the flame to low and place a pan over the tawa.

First, transfer the Mutton Masala to the pan. Then, layer it with the cooked Tapioca.

Garnish it with fried coconut.

Cover and Cook on low flame for 10 mins.

Mix it well and gently mash the tapioca pieces.
Video
Notes
[web_stories title="true" excerpt="false" author="false" date="false" archive_link="true" archive_link_label="" circle_size="150″ sharp_corners="false" image_alignment="left" number_of_columns="1″ number_of_stories="5″ order="DESC" orderby="post_title" view="carousel" /]
Nutrition
You Might Also Like