Hi, Friends. Do you need a tasty, unique, non-veg starter for your dinner or lunch? If the answer is yes, you are in the proper place because Chicken Hong Kong is a juicy, soft, mild spicy chicken stater you will love. This is different from our average Mughlai starter, where masalas are prominently present in India. If you are looking for this for your house party, your guests will love it because this is unique yet very tasty and will impress your guests. This recipe is easy to make by following the below steps one after the other. Read till the end to create this delicious dish.
Table of Contents
Chicken Hong Kong Recipe is a perfect recipe for those who love bold and savory flavors. This chicken recipe contains various spices and herbs that go well together, which you will enjoy while making this dish. To make this dish, start by marinating boneless chicken pieces with different types of sauce, cornstarch and Black Pepper Powder. Then stir fry the marinated chicken with garlic, ginger, and green onions until everything is cooked properly. Finally, add good amount of Spring Onions Greens, Onions Bulbs, Red Chilly flakes to make this dish flavorful. serve it hot with steamed rice and enjoy the taste of this chicken Hong Kong.
This recipe is perfect for any occasion, whether a party or home dinner. This recipe is an easy and tasty recipe. It's not make that spice, but its up to you to adjust the spice level to your taste.
We have included a video link to this Chicken Hong Kong recipe so that if you have any doubts, you can refer them. Please show your support by giving us a star rating as per your satisfaction. If you have any questions or feedback, please mail us at famousdishes4u@gmail.com.
How to make Chicken Hong Kong Recipe style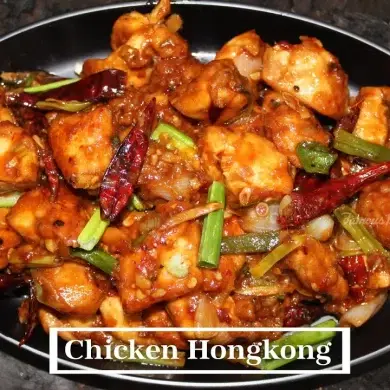 Chicken Hong Kong Recipe.
If you're a fan of bold and savory flavors, you simply must try Chicken Hong Kong. This recipe is bursting with a variety of perfectly blended spices and herbs, creating a truly delightful culinary experience.
Print
Pin
Equipment
1 Mixing Bowl

1 Kadhai for deep frying

1 Kadhai
Ingredients
400

grams

Boneless Chicken

2

tbsp

Cornflour

1/2

Cup

Chicken Stock

8-10

Dried Red Chillies

Ginger Jullienne

1

tbsp

Garlic Chopped

Salt as per taste

One Egg

Optional

1

tbsp

Soya Sauce

1

tsp

Vinegar

4

tbsp

Red Chilly Paste/Sauce

Spring Onions Greens/Onions Bulbs

Finely Chopped Spring onions

1/2

tbsp

Red Chilly flakes

1

tsp

Black Pepper Powder
Instructions
Ingredients of Chicken Hong Kong

Add red chili sauce, red chili flakes, black pepper, and salt to the chicken.

Next, add two teaspoons of corn flour and one and a half teaspoons of all-purpose flour. Mix the ingredients thoroughly.

To marinate chicken, let it sit in a marinade for 15 to 20 minutes.

First, heat oil in a kadai. Then, add the chicken pieces one by one and fry them on low to medium flame.

To achieve a crispy and golden brown texture, fry them for 4 to 5 minutes, stirring occasionally.

Now that the chicken is properly cooked and has turned golden brown, we can remove it from the oil and place it on a paper towel.

To begin, heat a wok or kadhai on high flame. Next, add one teaspoon of oil.

Next, add chopped garlic and julienne-cut ginger. Stir-fry on high heat.

Now, add dry red chilies and fry them together.

Now, add onion bulbs, spring onions, some greens, and stir-fry them thoroughly.

Please add the chicken pieces to the dish and mix them thoroughly.

Add dark soy sauce, red chili flakes, black pepper powder, and red chili sauce or paste.

Add chicken stock, mix it well and let it boil on high flame.

Next, add approximately 2-3 tablespoons of corn flour paste to the mixture and stir thoroughly.

The Hong Kong-style chicken is now ready to be served.
Video
Notes
[web_stories title="true" excerpt="false" author="false" date="false" archive_link="true" archive_link_label="" circle_size="150″ sharp_corners="false" image_alignment="left" number_of_columns="1″ number_of_stories="5″ order="DESC" orderby="post_title" view="carousel" /]
Nutrition
You Might Also Like